COMMISSIONS & CUSTOM WORK
An acclaimed sculptor of wire, wood, metal, and stone, Ryan creates custom, handmade commissions across a range of price points and budgets. Many clients provide an important stone or object to add an emotional connection to the piece of art. Adding features like a plaque or treasured item inspires clients to have a special connection to the work.
This page contains some of Ryan's latest works, commissions, and exhibits. Contact Ryan for information about custom commissions, shows, or any other request.
"What I love about creating a custom piece is that it inspires and challenges me. Coming up with new and different methods and ideas to give clients a truly special and unique piece is very rewarding as a self-taught artist."
— Ryan Kelley
"A year ago, the most beautiful life creation was born into this world and my wife Erin and I named her Rowen after the Rowan tree. The Rowan tree has a long, sacred history. Since ancient times people have been planting a Rowan beside their home as in Celtic mythology it's known as the Tree of Life and symbolizes courage, wisdom and protection. Instead of planting one outside I knew I had to have one inside for life. Close to a year ago I knew exactly what I wanted to do as a gift for Rowens first birthday. So I reached out to Wire By Ryan and asked him to create a Rowan Tree that would be our gift to her that she would be able to carry with her for life.

One special day Erin, Rowen, and I walked our property and waited for Rowen to point to any rock she was attracted to. Once she did, I picked up that rock and brought it back home and then brought it to Ryan Kelley for the final creative process. I showed him a picture of a Rowan Tree my wife has tattoo on her arm and he began sketching.

He drew a quick sketch, we talked about the feel, the leaves, the rock, the height, he covered every base and then I just let him be.

A couple weeks later he called me to say he was done with the final piece. I was in awe. Blown away. It was exactly what we had imagined. Below is a picture of the final piece and a photo of Rowen receiving her special tree. Thank you Ryan Kelley for the most amazing piece of art. I know Rowen loved it and will have this by her side for the rest of her life."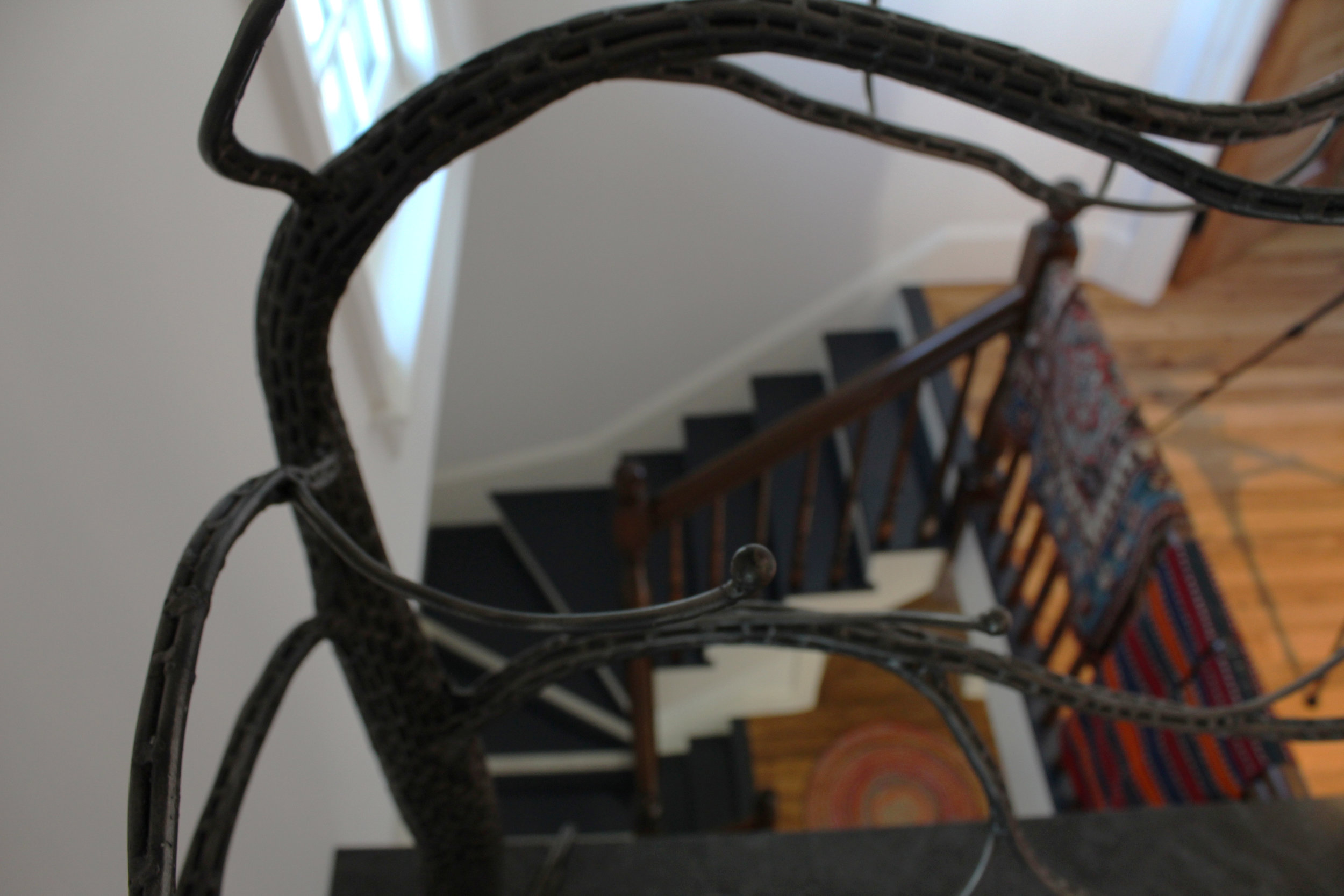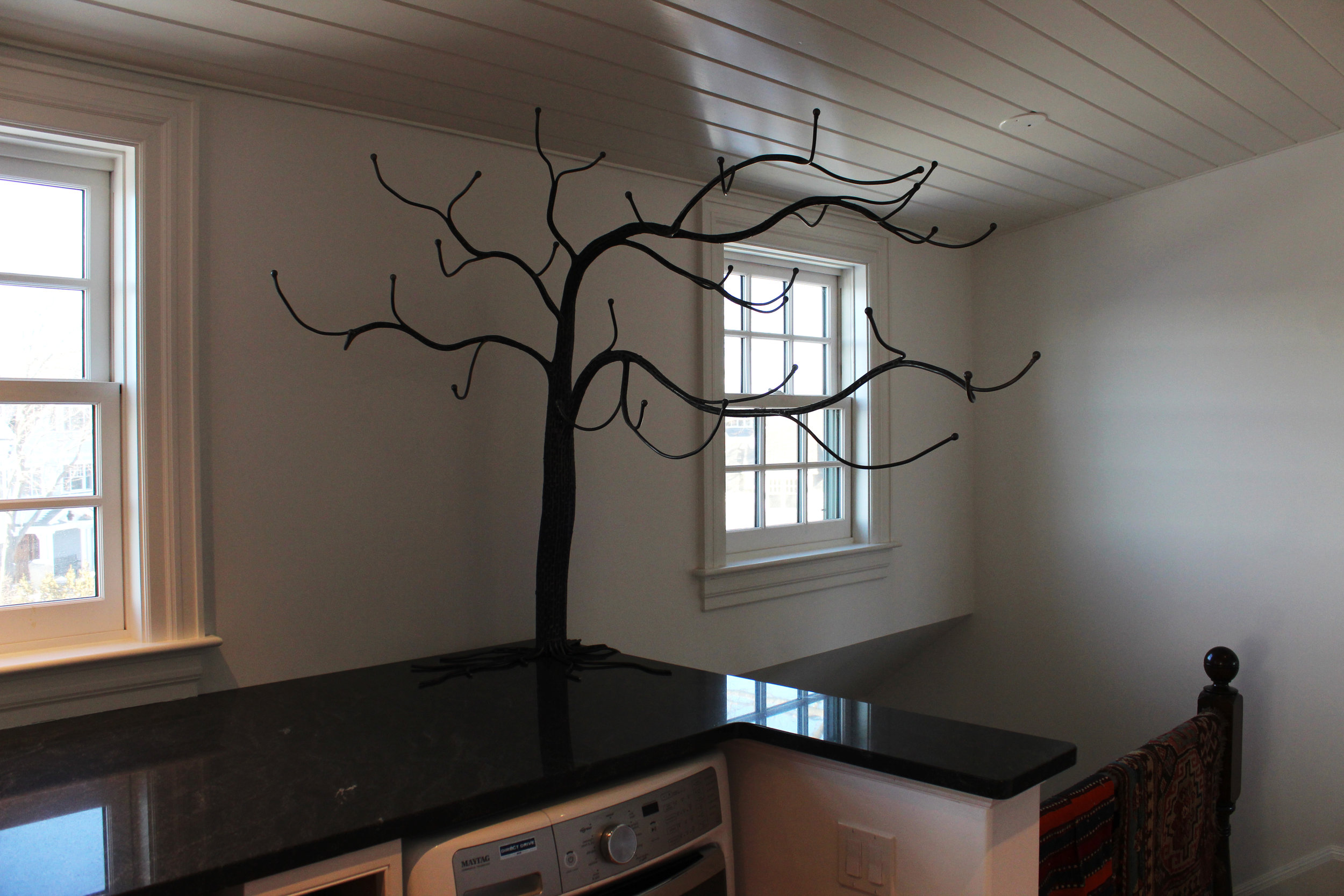 Commissioned by a client in Gloucester, Massachusetts, this welded steel rod tree was installed into the counter top of the client's laundry room. The steel is waxed to protect the metal and the clothing. From start to finish, this piece took approximately 50 hours to create. Templating and creating a perfect mock-up of the space in Kelley's studio was incredibly important. The tree couldn't have been installed properly without a perfect fit.
Friends of Newburyport Trees
Donor Recognition Installation
FoNT commissioned Ryan to create a large public donor recognition art piece to be installed on the Newburyport Rail Trail. Made of self weathering steel and stainless steel, more donor leaves will be added every year! Information can be found on the Friends of Newburyport Trees Facebook page or at www.fontrees.org.
Huge thank you to Cassidy Brothers Forge for their help with the programming and water jetting!
Photos by Kate Donovan Photography
Rupert A. Nock Middle School 2017 Fall Play
"Lord of the Flies"
In collaboration with Mike Pirollo, a theater teacher at the Rupert A. Nock Middle School, Ryan helped to design and build a lush and exotic deserted island in which the students performed. Included in the set were a crashed plane, multiple fires with smoke, and the "beast". Working with Mike was an artistic dream, building on ideas and bringing them to life in a medium Ryan hadn't worked in yet.
Check out Mike's incredible design work on his website:
https://www.mlpid.com or on his instagram: mlpinteriordesign
Penn Brook School Class of 2023
Sixth Grade Gift
"Spoon Platoon" Installation
At Our Neighbors' Table
Ryan enjoyed collaborating with artist Stephen Martin to create a wood and aluminum sculpture for Jardis-Taylor Center for Our Neighbors' Table's capital campaign. The The Spoon Platoon Sculpture featured 171 spoons engraved with individuals, businesses, families, and neighborhoods who contributed to ONT's Capital Campaign.
Press Release: http://www.ourneighborstable.org/newsevents/the-spoon-platoon-marches-out-hunger
Roots to Wings Installation
This hand hammered copper wall hanging was commissioned by the owners of Roots to Wings Yoga & Healing in Newburyport, Massachusetts. After thousands of hammer strikes, a solid sheet of copper was formed into the shape of their logo, measuring approximately 53" by 39".
View their website at: www.rootstowings.com and stop by to check out my work in their beautiful new studio.
"On the outset, I knew this piece would be one of my favorites. Not only because how close the project was to home, but because it was something completely new for me as an artist. Copper is a fickle and sometimes unforgiving metal despite the malleability. I can't wait to see how this piece ages over time, bringing a shimmering relaxation to the customers at Roots to Wings."